In 2016, we launched a Diversity and Inclusion survey with our friends at Paradigm, receiving over 7,000 individual responses on topics such as belonging, opportunity, purpose and fairness. We're delighted to share with you some of our findings.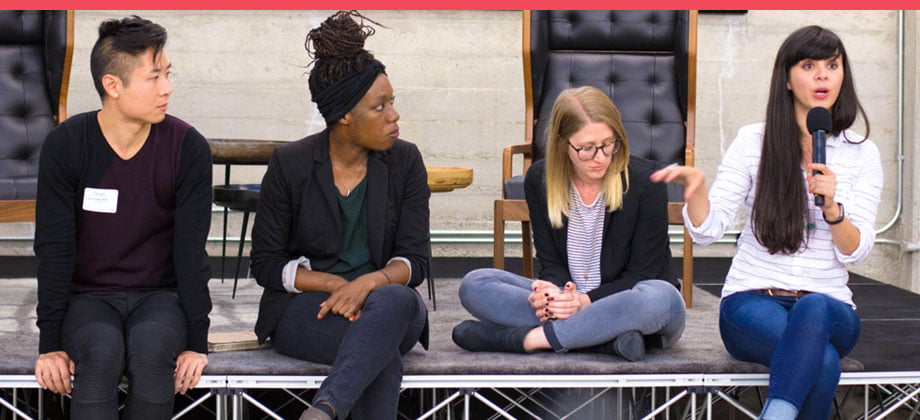 Steven Huang (Culture Amp), Y-Vonne Hutchinson (ReadySet), Joelle Emerson (Paradigm), Laura Gómez (Atipica)
This report is the first of its kind to openly share, analyze, and discuss the results of real responses from tech companies in an effort to better understand diversity and inclusion through the lens of company culture and employee engagement. To make progress in building more diverse and inclusive cultures, we need to better understand the factors that support diversity and inclusion and talk about them openly and concisely. We also need to do this without deferring to nebulous definitions or anecdotes. In that spirit, we have deconstructed concepts of diversity and inclusion into 22 separate individual factors to better quantify and understand how they are experienced across different demographic groups.
Key findings
In the process of creating this report we've confirmed some of our theories, debunked a few and come up with still more questions. The findings we're exploring further are:
Concepts of diversity and inclusion are experienced differently amongst people of different backgrounds. Often these disparities in sentiment are large. They're often as we've expected.
Sentiments of diversity and inclusion have correlations to workplace engagement, though the strength of correlation is not consistent across demographics or issues.
The impact of how well represented a group is at their company (in proportion to the national population) on their perception of diversity at an organization is not consistent. Some groups with lower representation perceived diversity at their workplace more positively than groups with higher representation.
Perceptions of diversity (measured via agreement to the statement, "My company builds teams that are diverse") vary significantly, but did not often have significant correlation with engagement.
For groups that are well represented in the workplace, inclusion becomes more of a prominent concern than diversity. We believe diversity and inclusion to be separate issues that are closely related.
Of all the factors we've surveyed, a feeling of belonging ("I feel like I belong at my company") has the highest correlation to engagement at the workplace for nearly every demographic. Notably, the correlation of belonging to engagement is strongest for groups that are historically under-represented.
Based on our findings, we believe that diversity and inclusion initiatives that have a strong focus on belonging are likely to be more successful.
Engagement as a central theme
The metric we pay most attention to at Culture Amp is engagement. We look at five factors to understand engagement:
Present commitment to the organization;
Future commitment to the organization;
Whether they would recommend their workplace to others;
Pride in working for their present employer;
How motivated they feel about their work.
As part of the diversity and inclusion survey we asked five key engagement questions. By using engagement as a grounding metric, we can study how different factors of diversity and inclusion impact a person's personal motivations, pride, or commitment to the organization.
Engagement by demographic
Click to sort by demographic group or engagement score.
For context, an engagement score of 72 is our benchmark median for New Technology companies.
A few standouts: In terms of family status, married parents and guardians have the highest overall level of workplace engagement, with levels rivaling some of the most culture-focused companies we work with.
New joiners (0-1 years tenure) are also highly engaged. New joiners and those with tenure of 4-6 years share the largest engagement gap within a cohort at 17 points. We consistently see this pattern of higher engagement in people who are in their first and fourth - sixth years with an organization.
Educational levels have the next highest spread in rank. People holding associate and high school (or equivalent) education are highly engaged. Sexual orientation also shows a similarly large variance.
What we learned
Our data confirms what most of us have already known: there are disparities in workplace sentiment when it comes to diversity and inclusion and there is plenty of room for improvement. When it comes to addressing these disparities, it can quickly become a difficult balancing act for organizations as people from different walks of life value different things when it comes to diversity and inclusion.

For groups with low representation, specifically those who identify as Black / African American (2% of total sample population), gay or lesbian (5%), or bisexual (2%), the largest disparities in sentiment are in response to the statement, "My company builds diverse teams" – less than half of respondents in these groups gave a rating of "agree" or "strongly agree" Groups that are severely underrepresented – somewhat unsurprisingly – don't consider their workplace to be one that builds diverse teams.
While this evidence seems to suggest that higher representation can improve sentiments of diversity, there doesn't seem to be an ideal level of diversity. Other underrepresented groups, such as those of Hispanic/Latino heritage (5% of total sample population), show some of the highest favorability scores for the same factor.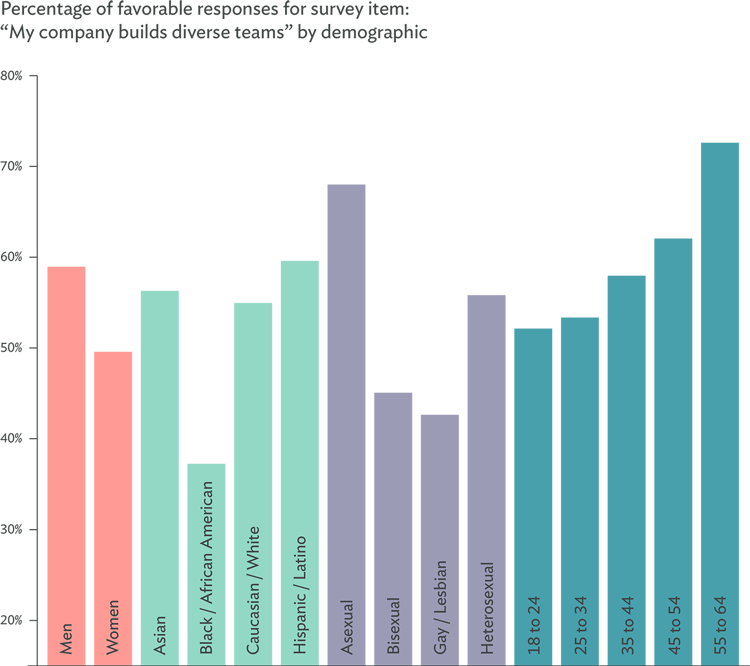 Another confounding result: the factor "My company builds diverse teams" also shows high differences in sentiment across age groups. Younger people tend to score this factor less favorably, while those aged 45-54 (1% of population) give it a much higher score. The interesting thing here is the clear linear relationship between sentiment on diversity and age – the older you are, the more favorably you respond.
Overall, the data seems to suggest:
Representation is not the only key to building organizations that are perceived as diverse. Some underrepresented groups, such as Hispanic and Latino workers, respond more favorably to survey items concerning workplace diversity, regardless of representation.
The definition of diversity appears to differ across generations. Younger people are less likely to indicate that their company builds diverse teams, while older people at the same companies answer more favorably. This phenomenon occurs linearly, with favorability incrementally rising across age groups.
In terms of building diverse workforces, the solution doesn't appear to be simple. The data suggests that focusing solely on representation to increase diversity can have limited results.

For groups with higher representation, such as women (39% of sample population), the factor "My company builds diverse teams" has a smaller disparity than the factors "Perspectives like mine are included in the decision making at my company" or "People from all backgrounds have equal opportunities to succeed at my company". For women, the top seven largest disparities fall under the categories of decision making, fairness and voice.

We're fond of saying "diversity takes you from zero to one, while inclusion takes you from one to ten", and the data seems to back this up. For groups that feel underrepresented, they feel that diversity is more important. But as the group starts to feel they are represented, their desires shift to wanting to feel included. In consideration of this finding, organizations must tailor specific programs that focus on diversity for some and inclusion for others. One size does not fit all.
Another takeaway here might be that though we often look at diversity and inclusion through blunt demographic classifications, it's important to remember we ourselves are a combination of an infinite number of traits. Some of these traits can be seen and measured, some are discreet, while others are completely arbitrary. Organizing people by these traits can often show results that are inconsistent – because people can be part of many groups at once, or not follow the trends of a group. Making hard and fast policies based on a select few of these traits misses the point, and can even have adverse effects. We have to look at people as more than simple classifications.
However, we have identifiedone factor to which people appear to consistently respond positively – belonging.
Belonging impacts engagement
When we look at diversity and inclusion through the lens of engagement, things begin to make a little more sense. There appear to be very weak correlations between how an organization values diversity or builds diverse teams and employee engagement. In the end, the same factors consistently appeared as having the most impact on employee engagement:
I feel like I belong at my company
I feel respected at my company
Satisfaction with the decision-making process
Open and honest two-way communication
These factors impact engagement whether a group is overrepresented or underrepresented. They generally hold steady independent of specific sentiments towards diversity or inclusion. Someone who felt that there was not diversity in their workplace could still feel that they belonged.

But what was most surprising was how the factor "I feel like I belong at my company" showed up as the factor most correlated to workplace engagement for nearly every sub-demographic.
The implication here is that creating a culture where people feel that they belong can help boost overall feelings of motivation, commitment, and pride in the workplace. An environment where people feel they belong is a positive environment for everyone. More importantly, the correlation between belonging and engagement is more significant for those who are underrepresented. This suggests that instilling a sense of belonging most benefits the exact people whom traditional diversity and inclusion initiatives attempt to reach.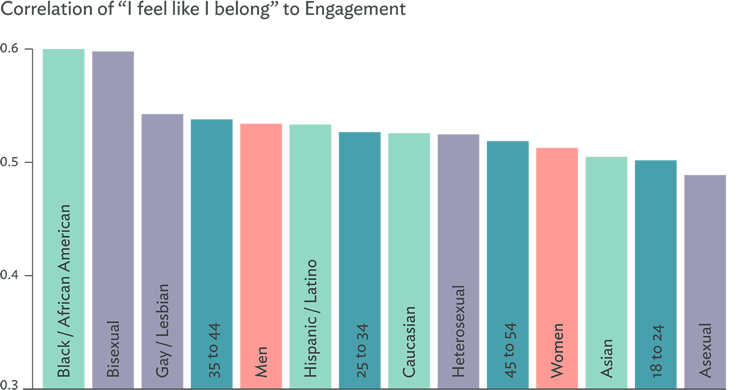 Our working hypothesis is that representation, diversity and inclusion are all supportive of an overall sense of belonging. Working alongside others similar to yourself, watching them succeed, and being included at work are critical to fostering the feeling, "I belong here". From this perspective, it's easy to see why belonging has such a strong correlation with engagement.

With this in mind, an effective diversity and inclusion strategy would do well to focus on cultivating an environment that uses belonging as a driving principle. Develop a culture that ensures people feel that they belong. Consider how you can create an environment where people feel respected, connected, and included – not hired to meet arbitrary quotas or to provide a token voice for underrepresented groups.

Of course, this isn't to say that we don't need more equitable representation at the workplace. For significantly underrepresented groups, diversity can be a big concern. What 'equitable representation' entails seems to be up for debate and constantly changing, and in any case, it's just part of the solution. Simply thinking of diversity as an issue of demographics or as a percentage of headcount doesn't lead us to effective initiatives. The need for humans to belong is fundamental, universal, and incredibly powerful – and we believe that assessing initiatives through the lens of belonging will lead us to better ideas and better outcomes.

Although there is more research to do in this area, we're excited about our findings to date and anticipate that belonging will become as much of a focus for organizations in the future as diversity and inclusion has been in the past. To that end, we've released an ebook: 6 Ways to Foster Belonging in the Workplace.